Lots of ideas/websites with activities: 
Due to the COVID-19 pandemic, we've decided to give you a few ideas of things you can do to help your child.
Class teachers have given specific work for each class but these are extra ideas and activities and are completely optional.
Keeping Busy!
Activities on Go Noodle https://www.gonoodle.com/
Mindfulness Session https://www.youtube.com/watch?v=CvF9AEe-ozc
Operation Transformation 10@10 https://rtejr.rte.ie/10at10/
Literacy
Read a Book
Book Review: Write a book review for your favourite book. Write an alternative ending to your favourite story. Design a new cover for your favourite book.
 Create a comic: Think of your own idea or take a scene from your favourite book.
Create a superhero: Draw a superhero, describe the superhero and identify super powers.
Character profile: Write about your favourite book character, write 20 questions you would like to ask them.
Write a letter to yourself– you age, your favourite TV show, book, song and dreams for the future
Oral Language Activities
Last Man Standing
Name a category or theme, such as things found in a kitchen, food, professions etc. Throw the ball and the student must say a word related to the theme and throw the ball back to you/another person. If they repeat a word that has already been said or can't think of a new one within a few seconds, they are out.
Alternatively, each student gives the next student another theme. You might start off with "something red." The first student to catch the ball could say "strawberry" and then choose another topic and throw the ball to the next person.
Pictionary
Write words on slips of paper for students to choose. The student must convey the word using only drawings. Students cannot use words, symbols or hand gestures. Limit the time to three minutes maximum. Each correct word is a point.
Charades
Write down words on slips of paper for students to choose. Verbs are likely to be the easiest. Students use actions to communicate the secret word. For each correct word, that student receives a point.
Taboo Words
Write a list of words on slips of paper. Pupils must describe the secret word without saying it. This helps students practice with synonyms and descriptions.
20 Objects
Test your memories and vocabulary! All you need is a clear desk and 20 common items from the house. Arrange the objects on the desk and let students gather around to look at them. Cover everything with a sheet (or something similar) after one minute. The student must write out as many items as they can remember on a piece of paper. Alternatively, you can call out the 20 objects twice and the pupils must write out the 20 items.
Categories
Draw six columns on paper and write a category (food, names, cities or countries, furniture, verbs and clothing) at the top of each column. Choose a random letter. Give students enough time to write down a word for each category that starts with that letter. You can repeat with new letters as many times as you like.
Letter Scramble- This can be used for spelling lists from Spellbound
Make a list of words that your students have recently learned and write a scrambled version of each on a sheet of paper. Allow students to unscramble the words on their paper. The first one to finish deciphering all the words wins.
Chalkboard Acronym
Write a word vertically and then have students write a word starting with each letter of the vertical word. For example:
Colour
Umbrella
Porcelain
Make this more difficult by requiring the words to be related to the acronym.
What Am I Thinking Of?
Each person thinks of an object and write 5-10 words describing the object on a piece of paper. After one minute, swap papers and try to figure out what the other person described. The first person to have both words guessed correctly wins.
Word Bingo
Picture Bingo:Use pictures on the Bingo card and call out the words that relate.
Synonym Bingo:Get those brains working by giving students a word that means the same thing as a word on their card.
Antonym Bingo:This is just as it sounds. Call out the antonyms of words on their cards and see how many students get it.
Gaeilge
The Daily News
This task can be done with any age from 2nd to 6th class. It can be done in a number of ways but here is a suggestion for different age groups:
2nd-3rd
4th-6th

Child tells you the news they have for the day. Stick to things in their own life rather than focusing on the news on the radio or TV.

The day, the date, the weather outside
Write 1 or 2 short sentences in Irish about what they did yesterday and draw a picture

You can create your own little newsroom on the kitchen table or you can record your child reading their news.

Child writes/types their news as well as news happening outside the world.
You can create your own little newsroom on the kitchen table or you can record your child reading their news.
Race yourself: Set a timer- say as many Irish words and sentences you can think of-food, weather, colours etc. and try and increase your time each day!
Watch a cartoon as Gaeilge: Cúla4/TG4 
Mathematics
Tables Games-Hit The Button https://www.topmarks.co.uk/maths-games/hit-the-button
Tables Games- Addition, Subtraction, Multiplication, Division https://www.theschoolhub.ie/sample.php
Tables Bingo
Create a 4×4 Bingo board and select a tables group (e.g. times 7). Pupil must write out answers e.g. 35, 14, 70, 7, 49. Call out a sum e.g. 5×7 and the person to clear their Bingo board first is the winner.
Extra Maths Worksheets available here https://www.math-drills.com/
Games for all areas of the maths curriculum http://www.primaryhomeworkhelp.co.uk/maths/index.html
Daily 10 minutes Mental Maths Activity https://www.topmarks.co.uk/maths-games/daily10
Time- Grab a clock and practise reading the time in five minute intervals and digital times
Weight scavenger hunt! Have a look in the presses and find foods that weigh 1kg, half kg, quarter kg etc. Look at liquids too! Find a liquid measuring 1 litre.
S.E.S.E
World Book Online- fantastic resources online https://www.worldbookonline.com/kids/home?
Research a landmark around the world such as Burj Khalifa (Dubai), Eiffel Tower (Paris), Empire State Building (New York), Golden Gate Bridge (San Francisco), Great Wall of China (China)- then build it with Lego!
Other Ideas:
Design and Make a Homemade Board Game
Draw a map of your local Area
Draw a Treasure Map
Design a bookmark
Build a cardboard castle
Tissue box monsters
Draw a self portrait
Lego
Build a lego skyscraper, your favourite animal, a lego bridge, a lego cube, a dinosaur, an igloo, a lego tree, your favourite fruit, a castle, a pyramid, a boat that can float, a lego car, a fire station, a lego staircase, a robot, a house,
Build something with only the blue lego, something that can fly, an alien
Pick a landmark around the world and build it with lego
Use your lego and baseplate to build a marble maze
Make a sculpture using exactly 18 bricks.
Create a pattern
Make your favourite film, book or TV character with lego
Write your name and age with lego
2.
Resources below this (click on the picture of the doc) are provided from the CESI Group on a Google doc (you will need a gmail account to open this). CESI is the Computers in Education Society of Ireland. This document is a variety of resources compiled by teachers all over Ireland. Simon Lewis of Carlow Educate Together shared it with the CESI mailing group.Thanks Simon and CESI! Ignore the bits about Google Classroom as we use Office 365. Pupils may share work they have done with their teachers or: principal@charlevillecbsprimary.ie.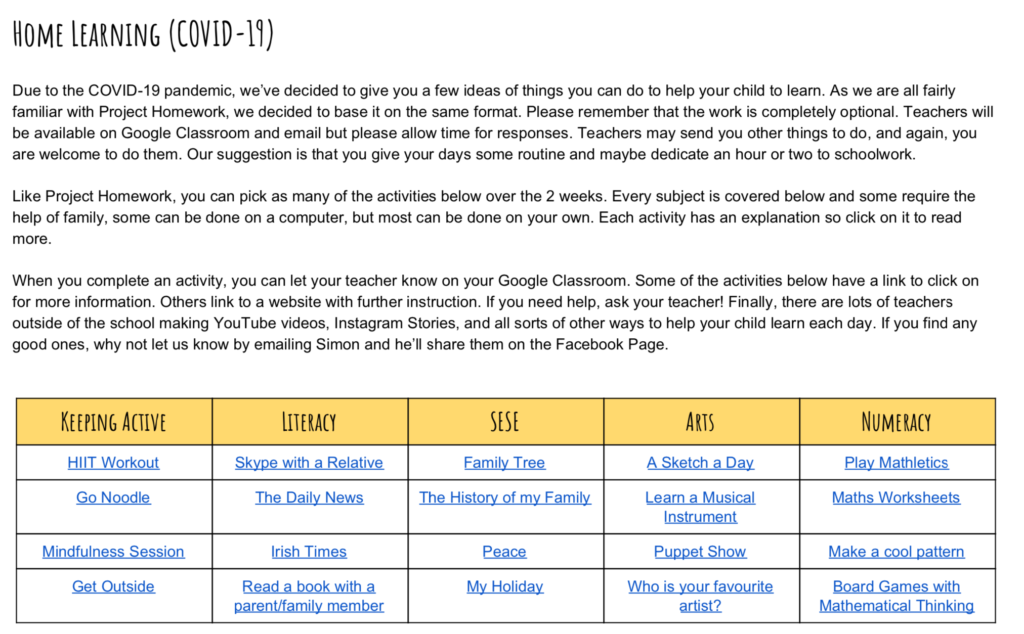 3.
This is a one-stop shop of resources compiled by Maggie Green- an ASD class teacher in Donegal- Thanks Maggie! Click on the picture below to access: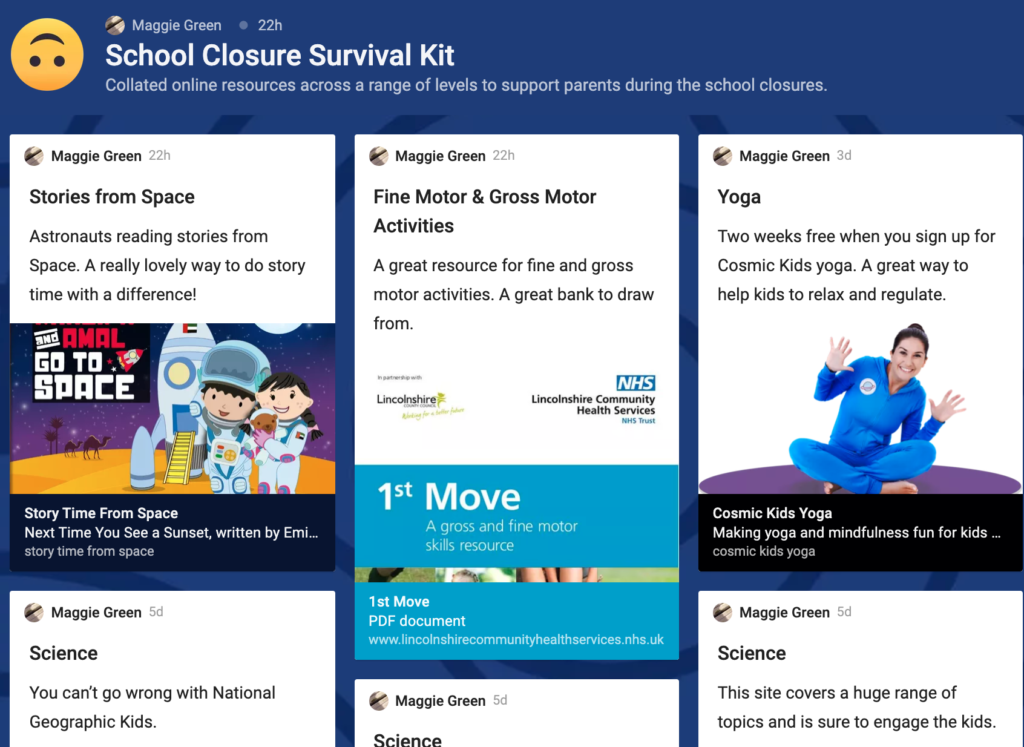 4.
Khanacademy:  
Most pupils have had this this set up by their teacher. Please contact your class teacher or myself if you are having problems logging in.
5.
Seomra Ranga:
This is a daily quiz competition during the school closures:
Click on the pic:
6.
Get Epic is a reading website and some teachers have already set it up in their class- feel free to go on yourself and set up an account for your son if they do not have one: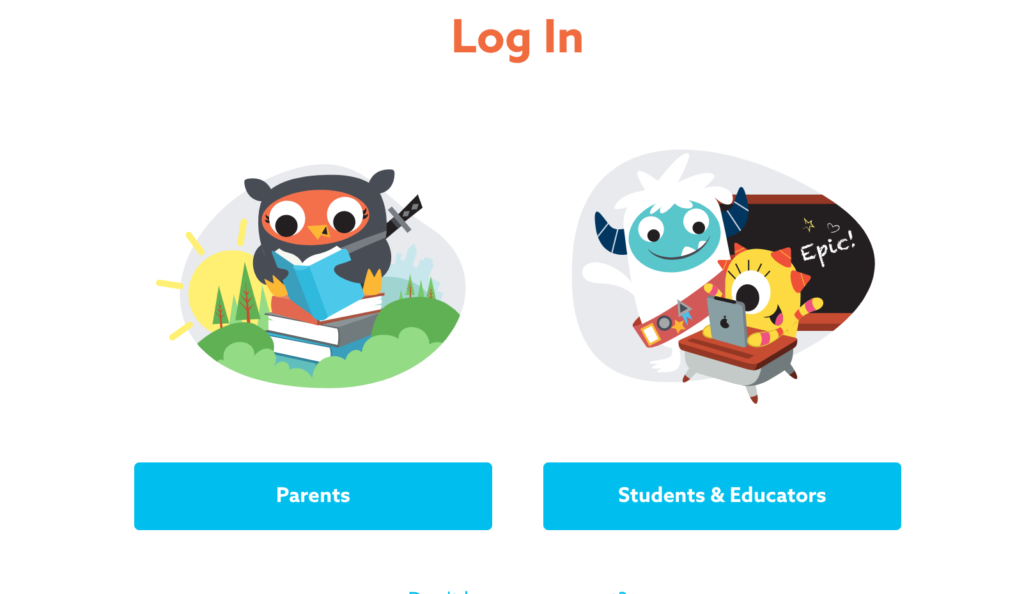 7.
Twinkl is a website offering free resources this month:
You can access the material on www.twinkl.ie/offer and use the code: IRLTWINKLHELPS
8.
Folens online:
Folens are giving access to all their digital resources on FolensOnline.ie.  This would be handy if you were missing your Reading Zone book:
Parents and teachers can follow the steps below to get access:
Go to FolensOnline.ie and click register
Select Teacher
Fill in a username, email and password
For Roll Number use the code:  Prim20
NOTE for Teachers:  if you already have an account on FolensOnline but want to access all our resources simply create a new account with a different email address.